The back-to-school bell may have rung, but that doesn't mean road trips and exciting new experiences have to end. While some attractions do close for the season, many more are still open. Out here in Southeast Montana, we offer plenty of year-round opportunities to explore – here are a few of our favorites.
Learning Outside the Classroom
Montana is steeped in hundreds – well technically hundreds of thousands – of years' worth of history. It started way back in the age of the dinosaurs and continues to develop to this day. Out here, we have so many museums and historically significant locations that we could spend all day sharing stories. Instead, here's a few highlights you won't want to miss. Tell the teacher it's an educational road trip and have the kiddos bring back some wild tales from days gone by.
Western Heritage Center – Located in historic downtown Billings, the unique, stand-out building once housed the Parmly Billings Memorial Library. Accredited by the American Alliance of Museums, you'll find collections, exhibits and programs that guide visitors through the story of the Yellowstone River Valley. The American Indian Tribal Histories Project and the Dude Ranch Lobby exhibits are a must-see and will immerse you in important aspects of the area's history. For a more immersive experience, check out the Hoof It With A Historian tours through the end of October.
Big Horn County Historical Museum – Located in Hardin, this is Montana's largest historical museum with 24 historically significant buildings (including five exhibit buildings) on 35 acres, beckoning the age-old pondering "if these walls could talk." Walk among a blacksmith's shop, artist Will James' cabin, the E & R Church (E & R stands for Evangelical and Reformed) built by German settlers in 1917 where services were done entirely in German, and even a funeral parlor among many others. Take note, however – the buildings are closed from October 1 to May 1. The main museum gallery building is open year-round with plenty of exhibits and locally-curated artifacts to satisfy your curiosity.
Carter County Museum – While the tiny and perfectly quaint town of Ekalaka (pronounced Eek-ah-lack-ah) may seem a bit unassuming, the museum holds more treasures than you'd ever imagine. We told you that Montana's history technically goes back hundreds of thousands of years, and the Carter County Museum houses some of the most ancient artifacts one could find - namely some of the finest paleontological discoveries in the United States. Triceratops horridus (three horns), Pachycephalosaurus wyomingensis (dome head), Edmontosaurus (duck-billed) and juvenile Tyrannosaurs Rex all call this museum home. And no, don't ask us how to say the names, but the remarkable staff at the Carter County Museum will happily give you a lesson any time of the year since they are open year-around. Before you leave, don't forget to get your Montana Dinosaur Trail passport book stamped.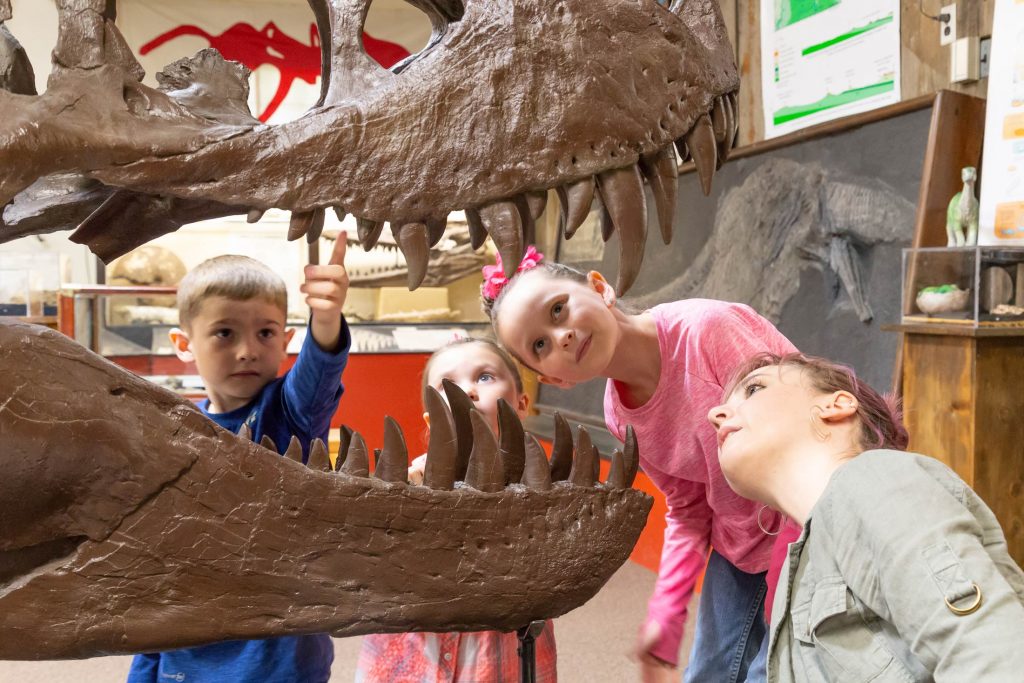 Is art more your thing? The Yellowstone Art Museum (YAM) in Billings and the WaterWorks Art Museum in Miles City give visitors a glimpse at art that is culturally significant to the area, with photos by Evelyn Cameron at WaterWorks and works by Deborah Butterfield, Will James and Charles M. Russell at the YAM, for example.
Mingle with the Locals
You truly don't know an area until you dive head first into rubbing elbows with the locals. And there's no better way to do that out here than hitting up local events. From rodeos to music fests to powwows, Southeast Montana will undoubtedly provide you with a wide range of events and experiences you'll be talking about for months after. Here are a few of the early fall events that you can't miss.
Rock the Run and Fall Festival – September 29, 2019
Head to Pompeys Pillar National Monument for the second annual Fall Festival and the Rock the Run 5K race. This year's events honor active military members, veterans and first responders. Gear up for a full day of fun with stage coach rides, craft vendors, food trucks and even a corn maze. The fun run/walk kicks off in the morning, so we recommend getting in a little exercise then hitting up the food trucks. Visit the Pillar and get a history lesson on Lewis and Clark for free during the festival as well. (Be sure to check out Clark's signature etched and preserved in sandstone. Pretty stinking cool.)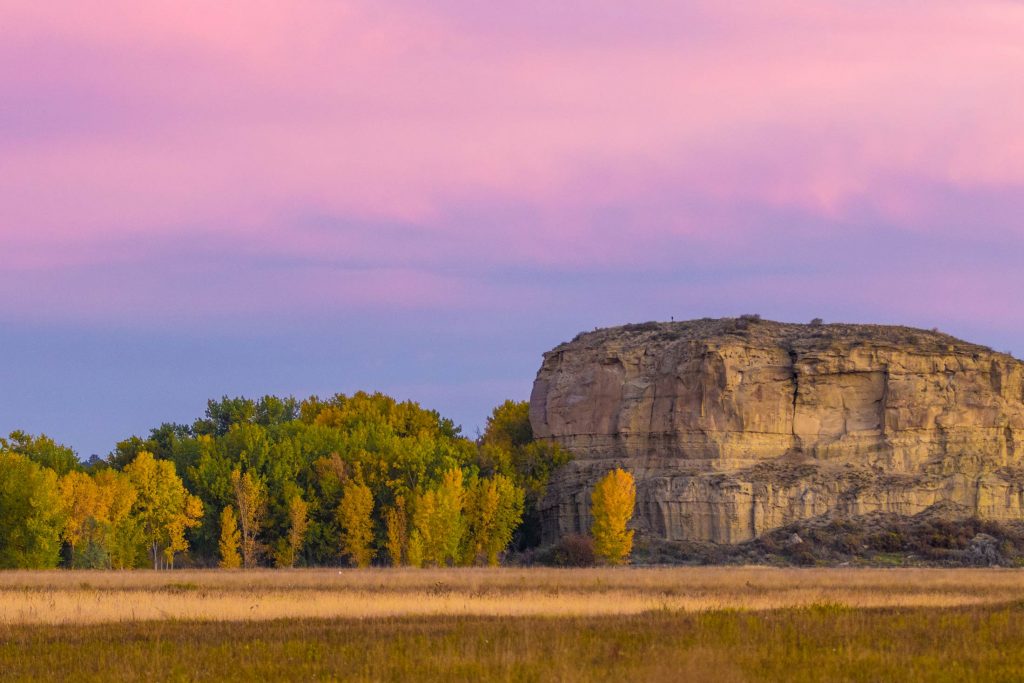 Miles City Bluegrass Festival – September 20-22, 2019
While Miles City's most famous event is the Bucking Horse Sale held in May, the Bluegrass Festival is close on its heels. Held at the Eastern Montana Fairgrounds, you better pack your best dancing boots for three days of foot-stomping music. Confirmed acts this year include The Buckleys, the Edgar Loudermilk Band featuring Jeff Autry, Song Dog Serenade and many more. This is a family-style event with a little something for everyone.
Barbeque in the Badlands – September 28, 2019
Three syllables - one delicious word: Barbeque. That's all that needs to be said.
But no really, between the Kansas City Barbeque Society sanctioned contest and a brewfest with plenty of craft beers, Barbeque in the Badlands (located in Glendive at the Dawson County Fairgrounds) is seriously the mostly deliciously-fun event you'll attend all year. Music and fun for the kids rounds out your day.
Bask in the Fall Air
There's just something about the fall air that is perfectly refreshing and rejuvenating (and we're not talking about pumpkin spice lattes). The crispness lends itself to hitting the trail and setting up a tent without overheating during the day and then curling up next to a fire with your favorite hoodie and blanket at night. Heading outdoors in Southeast Montana as the seasons start to change should be an absolute bucket-list item for everyone.
Hiking/Camping
Makoshika State Park and Medicine Rocks State Park offer two of the most noteworthy landscapes you'll ever come across. Makoshika (pronounced Ma-ko'-shik-ka), which is a variant spelling of a Lakota phrase meaning bad land or bad spirit, boasts dozens of miles of hiking trails to explore. Hit the trails either on foot or on your mountain bike. Remember how Montana boasts its dinosaur history? Well Makoshika is a hotbed of paleontological activity as well.
While Makoshika seems to make sense in terms of its landscape, Medicine Rocks will leave you wondering "where the devil did these come from?" Rising like magic out of the ground, these soft sandstone rock formations almost don't make sense compared to their prairie surroundings. Walking among the formations is a photographer's dream and viewing wildlife such as mule deer, antelope and sharp tailed grouse makes you forget about the real world – even if just for a minute or two. There are a dozen campsites available at Medicine Rocks, but we highly recommend bringing your tent and staying the night at both Medicine Rocks and Makoshika. Montana boasts big skies for a reason, and that rings true even at night. The seemingly endless number of stars you'll see at night will leave you awestruck – we guarantee you've never seen dark skies like these. Oh, and don't forget the s'mores!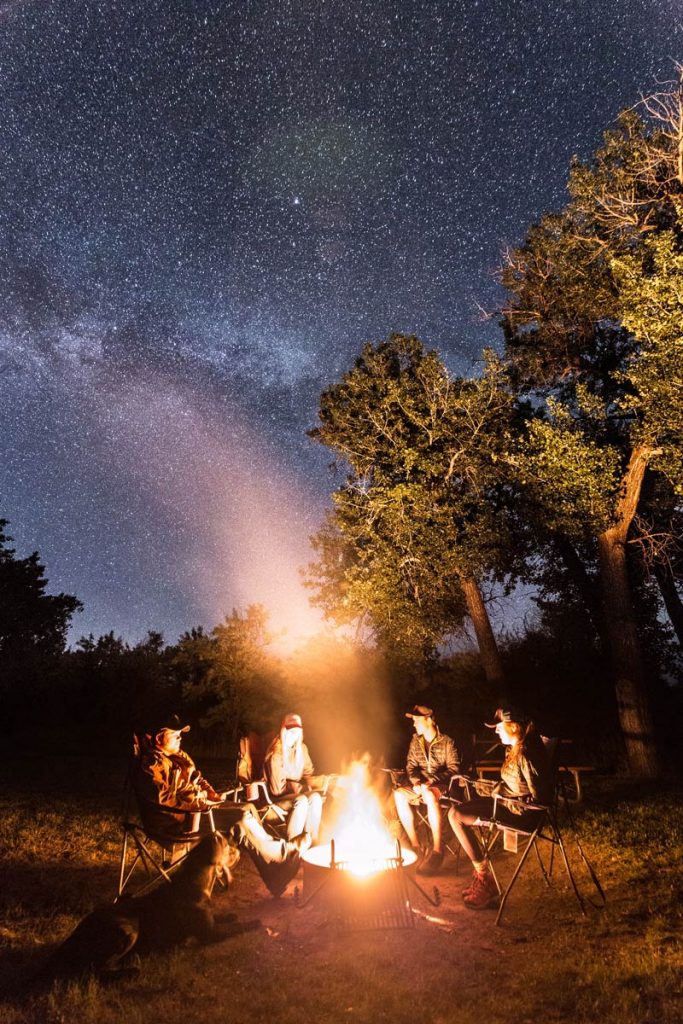 Fishing
If you're an outdoorsman, you might want to consider Southeast Montana for your next fall fly fishing trip. There are dozens of fishing access points along the Yellowstone and Bighorn rivers, and some of the best river outfitters/guides in the state are found out here. Sneak away with the guys (or your favorite group of outdoorsy ladies) for a long weekend. Check out our list of outfitters that will help you make the most out of your trip and maybe even help you actually catch a rainbow or brown trout.