The secret is out – or, well it's been out for a while. There's a reason Montana's nickname is the "Big Sky State" – we have really big skies. Out here in Southeast Montana, the skies stretch on for miles over the prairies and badlands. And at night, they can seem even bigger with the countless stars spreading out as far as the eye can see. The limited light pollution over Montana's rural prairies allows for some of the best night sky gazing in the world. And now those big night skies are being recognized internationally.
Medicine Rocks State Park has been designated as an International Dark Sky Sanctuary by the International Dark Sky Association. The park is one of only two dark sky sites in Montana and only the 14th dark sky sanctuary in the world. The 300+ acre park is situated between Baker and Ekalaka. Here, you'll find sandstone rock formations rising out of the earth throughout the grounds. The formations have been weathered over hundreds of years to give them a "swiss-cheese" look. If you look close enough, you'll also find inscriptions in the rocks that date back centuries.
The area, as the name suggests, was a place of big medicine for Native Americans. They would gather here to camp and look for medicinal plants. Because of this, the land was considered sacred. Today, the park is popular for hiking, wildlife watching and of course, night sky gazing.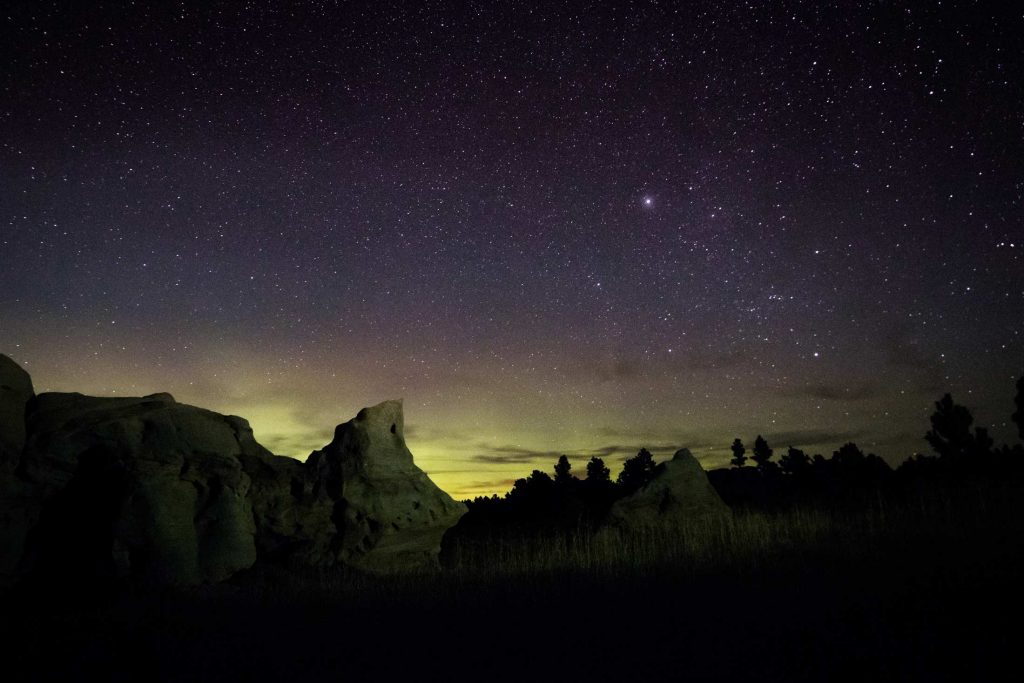 Medicine Rocks State Park's Dark Skies
So what does it mean to be an International Dark Sky designated site? The International Dark Sky Association requires the park to provide "an exceptional dark sky resource where the night sky brightness is routinely equal to or darker than 21.5 magnitudes per square arcsecond." Over the course of two years, Carter County Museum Executive Director Sabre Moore conducted sky quality measurements and concluded that Medicine Rocks State Park exceeded this benchmark.
The International Dark Sky Association has five different types of designations: communities, parks, reserves, sanctuaries and urban night sky places. In order to receive designation as a dark sky sanctuary, the area "has an exceptional or distinguished quality of starry nights and a nocturnal environment that is protected for its scientific, natural, or educational value, its cultural heritage and/or public enjoyment…The typical geographic isolation of Dark Sky Sanctuaries significantly limits opportunities for public outreach, so a sanctuary designation is specifically designed to increase awareness of these fragile sites and promote their long-term conservation." You can read more about the different designations here.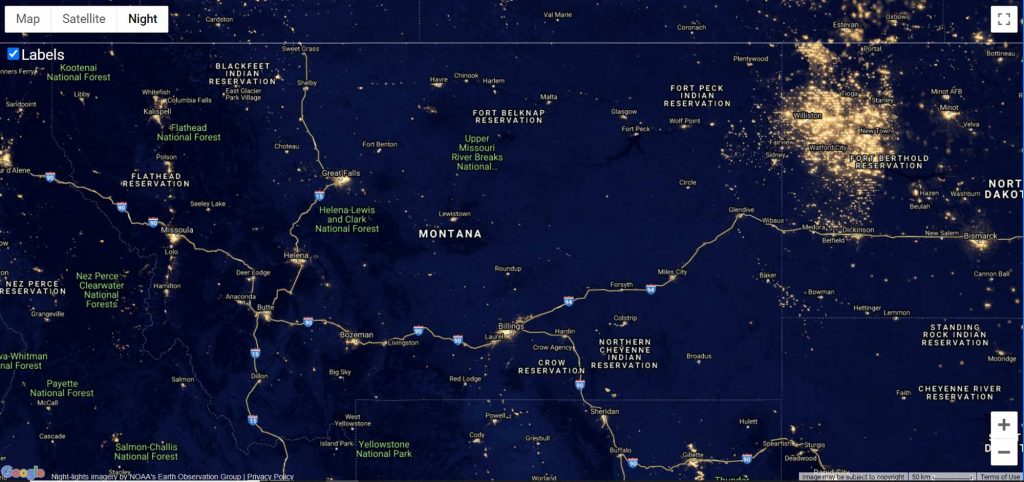 Dark Sky Events
Star parties and astrophotography workshops conducted within the park by Carter County Museum, Montana State Parks and the International Dark Sky Association Montana Chapter have put the park on the map as a destination for astronomical observers in addition to history enthusiasts.
The park will host IDA events on May 22, June 20, July 22 and August 18 of 2021. Keep updated on future programs by visiting stateparks.mt.gov or http://www.cartercountymuseum.org/.
Plan Your Trip
Out here, Southeast Montana's big, open spaces offer the perfect opportunity to get away from the lights of the cities and towns and explore one of the darkest sky spots in the world.
Start planning ahead for your trip out here to experience Medicine Rocks State Park. Find places to stay in Ekalaka or Baker, as well as maps, directions and camping information about the park here. We encourage you to visit the events page for Carter County Museum and plan to attend future star parties or astrophotography workshops.
Traveler Alert: Please remember to check ahead of time as services may not always be open or may change, stay home if you're sick and follow local guidelines and protocols. For more information, visit SafeOutHereMT.com.