What's Brewing in Southeast Montana? Find out during a Tasting Tour*
Microbreweries are not necessarily news. In fact, beer is nearly as old as mankind. (Dilly, dilly anyone?) However, the high plains of Southeast Montana are experiencing their own renaissance of sorts, as witnessed by the plethora of local breweries out here.
* Disclaimer: As required by common sense and courtesy, we strongly urge you to secure a designated driver before departing on a "tasting tour" of Southeast Montana.
Beaver Creek Brewery – Wibaux
We could consider this brewery as "the one that started it all." Established in 2008, well ahead of the craft beer craze in Montana, Beaver Creek Brewery has evolved into a self-proclaimed "regional destination for connoisseurs of beer, music and good times."
Co-owner, Jim Devine, joked that he and business partner Sandon Stinnett had been crafting home brew for about a dozen years and "we had too many pints so we decided to open a brewery."
Over the past decade the taproom, which originally hosted about three concerts per year, gained a business neighbor. In 2013, Devine and Stinnett refurbished the adjoining theater and opened the Historic GEM Theatre and Pub, complete with a stage for expanded concert options. Now, between the two businesses, 142 folks (according to the fire marshal) can enjoy craft beer, homemade specialties and authentic music – not bad for a town of 649 people.
While the atmosphere is clean and always entertaining, in a Southeast Montana sort of way, Beaver Creek Brewery serves locals and tourists alike.
Devine notes that between permanent signs along I-94, sites like TripAdvisor, specialty apps like Untapped and Google, those who want a good beer find their way to Wibaux – as either the first stop on the way into Montana, or the last stop on the way out.
"Beer geeks like me will find breweries wherever they are," he said.
Cross Country Brewing – Glendive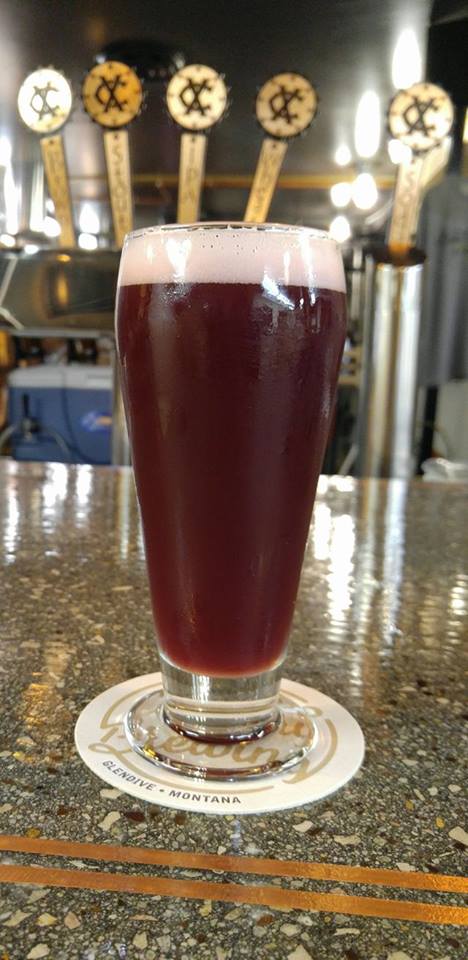 Just down the road from Wibaux, Cross Country Brewing opened in March of 2017. A two-generation family operation, this small tap room claims a renovated oil service building on Glendive's south side as home. With seats for 33 inside and additional 24 on the patio, Cross Country Brewing is intimate – by design.
"We wanted it that way," noted dad, Justin Cross, "because conversation is key to the type of operation we want. We talk about the weather, watch sporting event, play cards – there's lots of happy chatter."
The Cross family named the brewery with their surname, and members each bring his or her own talent set to the business, including "Mom" or Lonnie as the tap room manager. The word family is as important as the humor to these owners. Lonnie bakes dog biscuits for patron's canine pals and Cross Brewing also serves their own root beer, encouraging families to visit.
The beers themselves attest to the Cross family's sense of humor. Try a glass for Einstein's Beerd IPA. Or, note social media post about their bock beer: The Well-Tempered Bock! Don't worry if you don't think you can Handel this Bach, you can Telemann your preference. With our prices, you won't leave Baroque.
The laughs are served for free.
Old Skool Brewing – Baker
The obvious misspelling of this brewery's name gives blatant clues about the establishment's vibe. Located in Baker's renovated 1925-era Washington School, the recently-opened brewery plus pub operates on the motto of "Good People – Good Beer – Good Life" as is demonstrated by events and activities hosted at Old Skool Brewing.
Guests can enjoy beer-yoga (who knew?), beer bingo, game night and coffeehouse-style, local music during open mic sessions. Some events include a local caterer or food truck, but the hip, "let's-have-fun" attitude always permeates.
According to co-owner, Josh Cuppy, Old Skool's mission is to brew and distribute beer plus "blend the old with the new." Cuppy, who has a strong science background, joined forces with his wife plus, Dave and Sue Stevens, to open the brewery and pub in April of 2017.
While the locals may become regulars, Old Skool owners warmly welcome tourists. Cuppy noted that he has an "old school" (pun intended) pushpin map on the wall for visitors to stake their hometown. The map has dots from coast-to-coast and several international locations, including the Netherlands, Italy and South America. With beer names like Rigid Kilt and Buzzed Principal, who would miss it?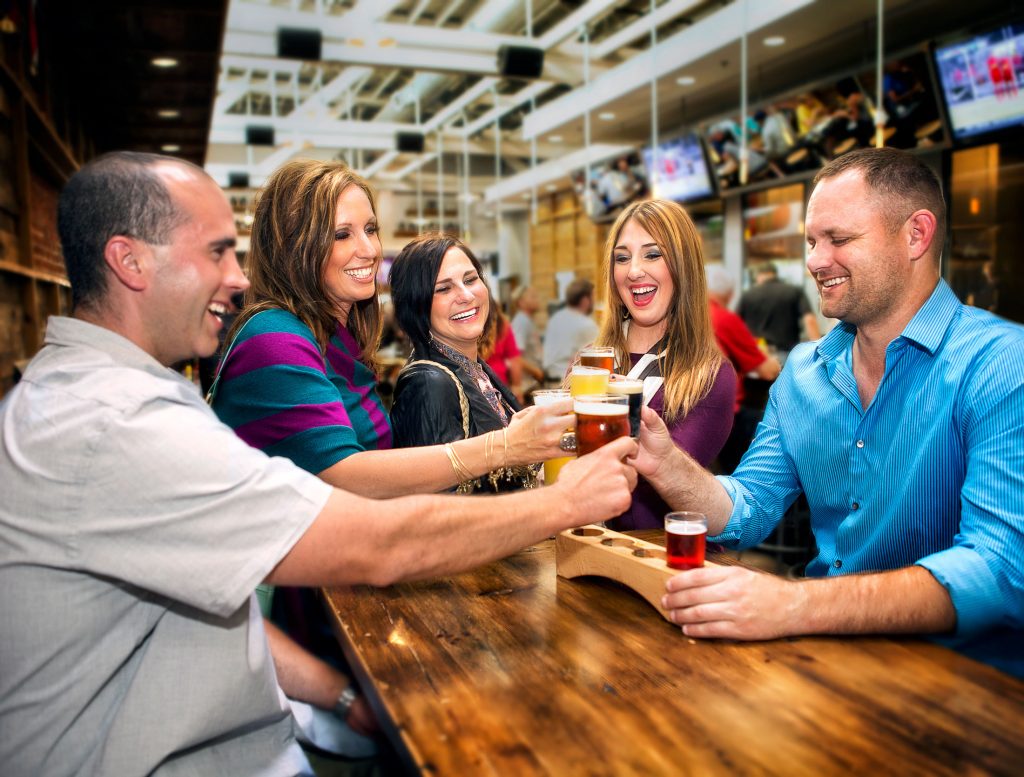 Tilt Würks Brewhouse – Miles City
As the home to several iconic bars, Miles City is no stranger to beer – so, why not add a micro-brew to the mix? Larger than the traditional tap room and opened in August of 2016, Tilt Würks serves craft beer, gastro-pub food plus includes a casino.
Co-owner Denis Leidholt used his personal collection of pinball machines and equipment to weave the vintage gaming theme into the decoré.
The bar-top is crafted from shadowboxes with machine parts inside and there are about 35 pieces of pinball machine backglass – that's the pop culture piece that gives each machine its theme, like Star Wars or Indiana Jones – displayed.
But it is the beer that sets this one apart. With names like Bang Back Blueberry Wheat and High Score Hefeweizen, plus flavors like Peanut butter & Chocolate Stout, patrons are continually "tilt-alated" with their options.
High Plains Brewing – Laurel
Here's a toast to another local brew. High Plains Brewing walks their talk when it comes to a family-friendly atmosphere and small-town vibe. Most days, you'll find brew master Paul Jenness enjoying a cold one of his own making while quizzing visitors for their thoughts on the liquid refreshment.
The original brews – High Plains Honey Porter, Haywire Honey Wheat and Boney Dog IPA—remain popular, patrons can enjoy seasonal variations and, most recently, some barrel-aged brews.
"We pride ourselves on our consistency while still trying new things," Jenness said.
In the summer months, the shaded patio expands the serving area with occasional live music. With three solid years under its belt, High Plains Brewery remains a favorite social spot in Laurel, and while the brewery has their regulars, they love sharing their stories and tastes with new faces.
Billings Walkable Brewery Tour
No conversation about craft beer in Southeast Montana would be complete without a look at the three distilleries and seven breweries within a 1.5 miles distance in downtown Billings. That's enough for several days of tasting.
To that, and all craft brewers, we say: Skål!