Long road-trips are where memories are made, and you get to experience the world around you one-mile at a time. But we all know that sometimes long days of driving aren't in the cards and day-trips from one place end up being just as memorable and fun. If you're looking to come back to the same bed each night while you're in Southeast Montana, we recommend these day trips from Montana's trailhead, Billings.
1. Roundup – This small town, located just 55 minutes north of Billings, is named because it is a logical place to round-up cattle (yup, that's Montana). Start with a quick tour of the Musselshell Valley Historical Museum, including a built-to-size coal shaft exhibit (visitors' note – they are open May through September). View it by walking bent-over to understand the physical demands of mining. Kids will love an opportunity to ring the authentic school bell or dream about flying David Comstock's original self-built Pietenpol airplane. The museum is free/goodwill donation.
Stop for an ice cream sundae or a milkshake at the Corner Café Malt Shop or be brave and order the Big Ass Enchilada at The Grand Bar & Grill. Next, walk off some of that great grub with a stroll down the RiverWalk Heritage Trail or jump into the Roundup public swimming pool – both are free to the public. Be sure to check out the art galleries and shops like Greg Eislelein Fine Art or Coila Evans Art Gallery in this burgeoning creative community, but give the galleries a call first to make sure the artists are there and not off creating wonders with their paint brushes.
2. Bighorn Canyon National Recreation Area – Some may call this Southeast Montana's best secret, but we call it just plain ol' amazing. With canyon walls ranging from 1,000 to 2,500 feet in height, just being there is an experience of epic proportions. The North District, located at Fort Smith, has three relatively easy hikes, or consider a ranger program for kayaking opportunities (see listing on Facebook). Although a bit more costly, renting a pontoon during the summer at the Ok-A-Beh Marina is the best way to experience the canyon in all its glory.
On the way home, swing through Hardin for a Wilcoxson's ice cream treat at 3 Brothers Bistro. If you need a bit more substance, try a hand-tossed pizza. The Big Horn County Historical Museum, with exhibits that explain the area's rich history, is a great way to end the day ($6/person or less).
3. Miles City – A short two-hour drive away, this frontier town offers a twist of whimsy melded with a bit-o-cowboy. Start by perusing the WaterWorks Art Museum, a quirky gallery built into massive, renovated water storage bunkers (free/goodwill donation). In addition to the broad permanent collection, the museum changes the exhibit regularly.
Next, head over to the Ranger Riders Museum. Almost more of a heritage center, the museum tells the story of Miles City and eastern Montana. From one donor's extensive weaponry collection, to Native American artifacts, to an in-depth display on livestock brands and barbed wire, this museum covers more than most history books. Lunch at the iconic Montana Bar or grab a brew at Tilt Würks Brewhouse & Casino to round out your day. http://www.rangeridersmuseum.com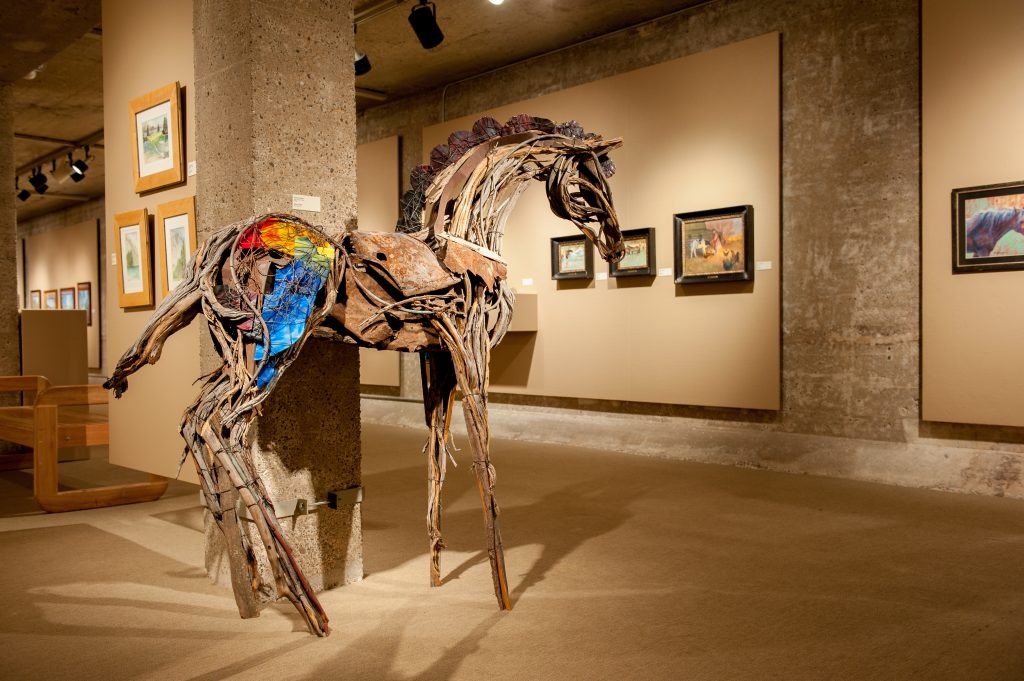 4. Little Bighorn Battlefield National Monument – If you're looking to truly immerse yourself in Southeast Montana history, look no further than the Little Bighorn Battlefield National Monument. Often referred to as Custer's Last Stand, it's the site of one of the most important and well-known battles from the Indian Wars in the late 1870s. It was here that Lt. Col. Custer and his 263 men fought against Sioux and Northern Cheyenne warriors. Walk through the museum to view artifacts found throughout the battlefield site and then drive a 4.5-mile route for a self-guided tour – there are also walking paths if you're looking to stretch your legs. To get an even deeper understanding of the battle, book a personal tour with Indian Battle Tours or 7th Ranch Historical Tours.
On your way back to Billings, be sure to stop at the Custer Battlefield Trading Post and Café. Their gift shop is extensive with items related to the Battle of Little Bighorn as well as American Indian made goods. Feeing hungry? The Trading Post Café has some of the best Indian Tacos in the region (if not Montana!).
5. Crow Fair Celebration Pow Wow and Rodeo – Held just one hour east of Billings, in mid-August each year, this traditional celebration remains the largest Native American event in the state. The fair includes a traditional-dress parade (daily at 10 a.m.) that winds through the "Teepee Capital of the World", named so because it springs up almost overnight, as well as a powwow.
You will not want to miss the Grand Entry – the rhythmic drumming instinctively makes you stand up and dance. Round out the day with the rodeo, which is sanctioned by the Northern Plains Indian Rodeo Association and is not for the faint of heart. Food concession available throughout the fair. Fry bread, anyone?