Photo credit Glendive Dinosaur & Fossil Museum.
Wait…what's that coming out of the wall?
You're cruising west along Interstate 90 in Southeast Montana, when suddenly you see a massive T-rex that appears to be busting out of a brick building in Glendive. We think it is reminiscent of a vintage comic character and the dino only needs a "Pow!" word bubble above his head.
Robert Canen, director of the Glendive Dinosaur & Fossil Museum, chuckled when we asked him about the prehistoric monstrosity and said that the T-rex has starred in many photos over the years.
We consider it a premier selfie spot.
As playful as the faux dino may be, the interior of the Glendive Dinosaur & Fossil museum is much more serious. Owned and operated by the Foundation Advancing Creation Truth (FACT), the organization takes a creationist approach that it demonstrates with its dinosaurs and fossil exhibits.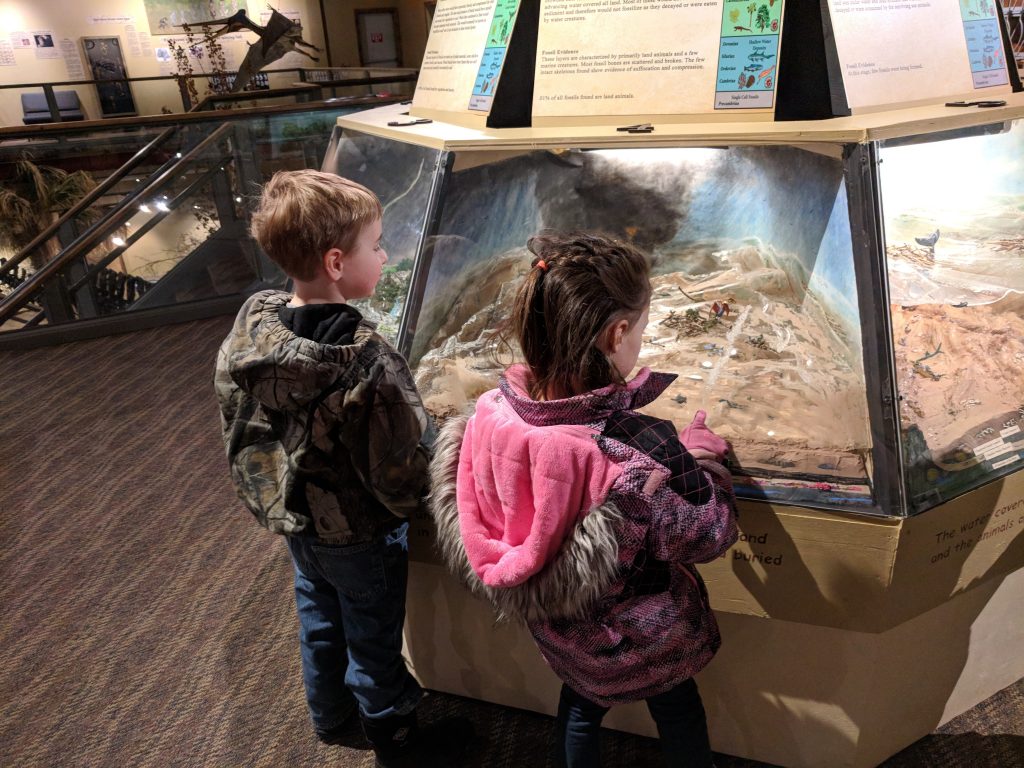 "We think that the flood of Noah's day is what laid down the fossils," says Canen. "We encourage discussion and want to look at this from a different perspective."
Most paleontologist and archeologists don't' follow this theory, but that's part of the fascination.
Regardless, the Glendive Dinosaur & Fossil museum is every bit as amazing inside, as the exterior's T-rex indicates.
Visitors will see locally-found originals like pieces of Big John, a triceratops, and Jonathon, a thescelosaurus. But what really catches the eye are the gigantic creatures made with faux skins over replica casts and set into realistic habitat. For some, it may even be a bit too "real."
Your little people will be drawn to the junior-sized dioramas set to their height. Or, the more dino-devoted will be thrilled to be part of the junior paleontology program. Those who want to explore the creationist theory more closely may enjoy videos in the museum's theater.
The entire Glendive community is, in fact, a hotbed of dino discovery.
Start right next door at Frontier Gateway Museum for an up-close-and-personal with Margie, a locally-found struthiomimus, plus a boat-load of other fossils like stegoceras, triceratops, thescelosaurus and hadrosaurs. Nearby, Baisch's Dino Digs offers a variety of fossil hunts on private land. Makoshika State Park encompasses more than 11,000 acres of Montana Badlands with seasonal paleo tours, plus dry camping, hiking, biking, an archery range and disk golf. The Visitor Information Center offers exhibits and a gift shop, too. Even downtown Glendive follows the dino theme with banners, murals and statues sprinkled throughout the town.
Some people spend an hour here, just to stretch their legs, Canen noted, while others spend a day. Simply put, Glendive, Montana is Dinosaur Nirvana.
Hit the Trail
The Montana Dinosaur Trail, a collaborative of 14 facilities across the state, offers a passport program and includes three regional stops: Makoshika State Park; Frontier Gateway Museum and Carter County Museum. To further expand your dino-themed trip, or to sign up for the passport program, check out the Montana Dinosaur Trail at mtdinotrail.org.
To learn about other dinosaur opportunities in the region or to plan your trip, see southeastmontana.com/plan-your-trip.