Late winter in Southeast Montana can seem long, but there's one constant – it's a great time to ice fish. At this moment, you are doing one of two things. You have either stopped reading because it's just not your thing. Or, you are thinking "Hot dang! I didn't know there were ice fishing places in Southeast Montana." Read on, our friend.
In February and March the ice is typically well-formed and the fish are getting pretty hungry. So here are our thoughts on where you can get out on the ice and get fishing.
Lake Elmo
Located within the city of Billings, Lake Elmo State Park is easy to get to so you can go for an hour or go for the entire day. Plus, it's an ideal location for beginners and kids because the fish are typically active. Word on the street is that Lake Elmo loaded with perch, trout and other panfish.
Castle Rock Lake
When thinking about ice fishing, most don't think of Colstrip, Mont. You heard it here first: Castle Rock Lake has given up a few monster pike and some very nice bass. But you will need to work for it. The 160-acre lake, just outside of town, has a great population of northern pike, largemouth bass, smallmouth bass and a ton of panfish. Can you say "fish fry?"
Arapooish Pond
This little (29 acre) body of water lies adjacent to the Bighorn River and can be a popular place for summer bait-fishing. However, Montana Fish, Wildlife and Parks placed an aerator at the south end to help combat winter die-off. As a result, it has become a quiet little ice fishing stop—and a decent place to spend a winter afternoon. This year, folks are telling tales of edible (and bigger) perch catches. Need we say more?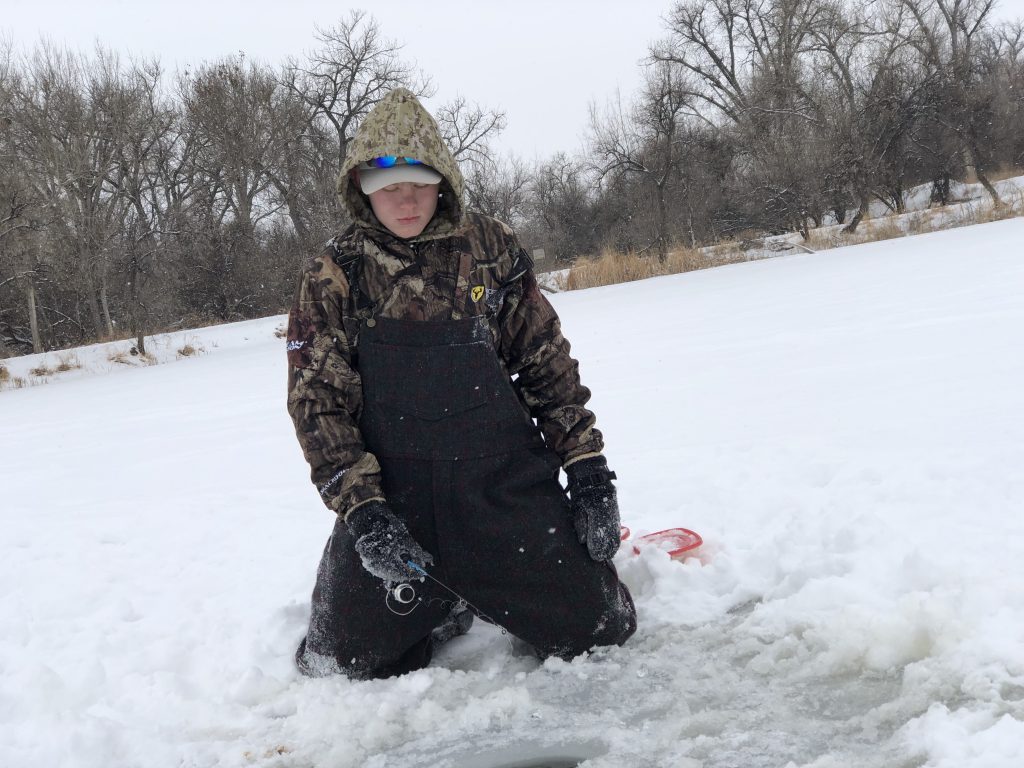 Tongue River Reservoir
This is one of Southeast Montana's best kept secrets. Located about two hours southeast of Billings, getting to Tongue River Reservoir State Park is a commitment. But, it's one for which you will likely be rewarded. While summer fishing on "The Tongue" as locals call it, includes walleyes, crappies, bluegills, sunfish, perch, trout and catfish, the winter fishing is a whole different beast.
According to park manager, Raymond Schell the ice is 20-inches thick and the fishing is strong. Anglers are catching mostly crappies and perch with some northern pike. Schell see both temporary and permanent ice shacks on the lake and visitors frequently use their ATV for access.
Those with winter rigs should consider overnight camping. Sites 1 -11 have electric hook-ups and are cleared of snow. All sites are available on a first-come, first-served basis.
The Tongue River Marina is typically open Friday, Saturday and Sunday but call in advance for specific hours. You can always purchase live bait or stop in for a warm-up and a fish story—it's their specialty.
Before You Go
It goes without saying that you should have a valid copy of a Montana fishing license with you at all times. Some folks simply keep the image on their phone and keep the actual license at home – we not sure that is legit, but it's an idea.
And, if you are using live bait be sure it legal. You can check regulations on the Montana FWP website and plan ahead for your purchase. For example, no shiners allowed and you cannot carry live bait across state borders. Anglers are responsible for knowing and adhering to Montana's laws.
During our recent ice fishing foray, a very nice FWP officer checked our catch and our licenses. He stuck around to make small talk, sharing what he heard about who was catching what and where. We are friendly like that out here in Southeast Montana. Happy fishing!