An upcoming episode of the nationally-aired TV show, The Flush, was shot in Southeast Montana during the fall of 2018. The episode will premiere on The Outdoor Channel the week of September 2, 2019. Watch live at 11 a.m. Thursday, September 5, 2019 and at 6 a.m. Saturday, September 7, 2019 Mountain Standard Time, or see local listings for times in select viewing areas.
The show highlights upland bird hunting opportunities in Southeast Montana with bonus footage of waterfowl hunting and fly-fishing along the Bighorn River near Fort Smith, Montana. Known locally as "blast and cast," late-season sportsmen often hunt waterfowl at daybreak, when ducks are most active, then fly-fish for brown and rainbow trout as the autumn days warm on Montana's eastern plains.
For a sneak peek, see: https://www.outdoorchannel.com/show/the-flush/1440 or see www.outdoorchannel.com for more detailed show listings. The episode was produced by Ron Schara Productions with support from Visit Southeast Montana tourism.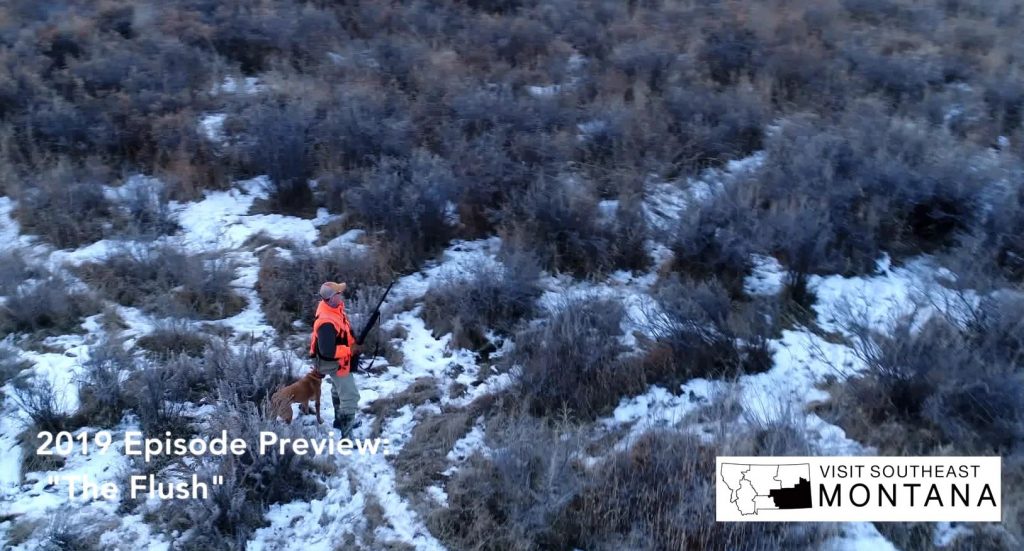 Montana's 2019 pheasant bird season opens October 12 and runs through January 1, 2020 with Central Flyway, Zone 2 waterfowl season opening September 28 through October 6 and then October 19 – January 14, 2020. Both types of hunting licenses are available over-the-counter with valid I.D. and gun safety credentials for those born after 1985. See https://app.mt.gov/als/index/index.html for both resident and non-resident instructions.
To learn more about hunting and fishing in Southeast Montana, visit southeastmontana.com/hunting-fishing