We love traveling (surprise, surprise) and everything it brings. From the planning to the anticipation in the days leading up to the trip, exploring things new and old and reliving the memories in the weeks, months and years later.
Montana lifted the two-week quarantine of non-resident visitors on June 1. And we can't wait to safely welcome you to Southeast Montana when the time is right for you – this is truly our little slice of heaven in Big Sky country!
Just like so many other things, preparing for a vacation isn't quite the same as it was prior to the novel coronavirus pandemic. From knowing what is and isn't open, to what routes might be closed down, to the actual packing part (masks, hand sanitizer, etc.) there's a lot to take into account.
We're here to help – we want you to take in all the beauty and adventure Southeast Montana has to offer. With more than 40,000 acres of recreational land overseen by the Bureau of Land Management, to the eight state parks, two national monuments, numerous lakes, fishing access points and trails, there are plenty of wide-open spaces for everyone to explore.
But, we also want to keep you – and our state's residents – safe and healthy. Here are some tips, guidelines and protocols across the region that will help you prepare for your next big getaway.
DIRECTIVES FROM THE STATE OF MONTANA
The state of Montana is in Phase Two of its re-opening plan. That means restaurants, bars, casinos, distilleries, etc. can be open at 75 percent capacity. You should avoid gathering in groups of more than 50 people, unless social distancing can be observed. If you are coming into the state via airport or train, the Montana National Guard may be on hand to quickly assess you for symptoms and potential exposure of COVID-19.
The following will also help you plan before heading out:
Know before you go: Check local guidelines and protocols before heading out, because many cities, counties and reservations have enacted their own mandates. This includes any area you might be driving through on the way to your destination(s).
Stay home if you're sick: Southeast Montana will still be here for you to visit when you're feeling healthy again. If you get sick while traveling in Montana, or come into contact with someone who has tested positive for COVID-19, there is information on testing here.
Services may be limited: Not everything is open right now. Make sure to check directly with your destination. Find contact information for the different services you'll be visiting on our Things To Do page, or check with local restaurants and establishments under Places To Eat and Drink. If you do not have a Place to Stay yet, you will find hotels/motels, cabins, campgrounds and other lodging information on that page.
We also ask that you: (1) wear a mask when indoors (see below), (2) use hand sanitizer or wash your hands frequently, (3) cover your cough and sneeze, (4) don't touch your face and (5) maintain social distancing.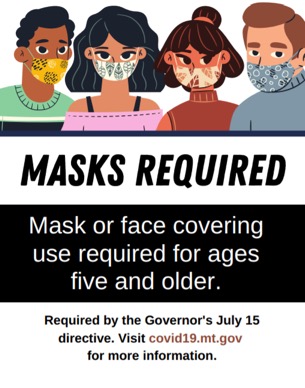 MASK MANDATES
Effective immediately, Montanans and non-resident travelers are required to wear masks when visiting public indoor places.
This mandate includes:
All Montana counties with four or more active cases of COVID-19. Find a map of the active cases in Montana here.
Children over age 5; masks are highly recommended for children ages 2 – 4.
Outdoor gatherings of 50 people or more where social distancing is not possible.
Find Governor Bullock's full mask directive here.
INDIAN COUNTRY
Travel restrictions may vary across the seven Indian reservations in Montana, including the two reservations in Southeast Montana: Crow Nation and Northern Cheyenne Nation. Travelers should contact the local tribal government before heading out to get the most up-to-date information and plan for the possibility that services like gas stations may not be open for visitors.
In addition, you may need to stop at a checkpoint when traveling through the reservation – this is a simple and quick process – which some tribal nations have implemented to keep tribal members safe while still allowing through traffic.
You can also visit the COVID-19 page on our website here, which is updated as information becomes available. If you have questions about any of the guidelines listed above, or need help planning your trip to Southeast Montana, we would be happy to assist. You can reach us at info@southeastmontana.com, 406-294-5270 or 1-800-346-1876. Find more inspiration for your getaway here. We look forward to seeing you out here in Southeast Montana!