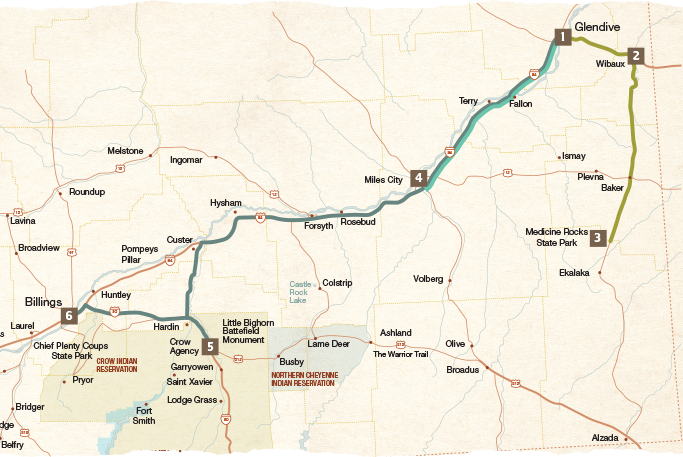 The years before Montana became a state were filled with cowboys looking to make their mark on the western frontier. Coming from places like Texas and New York, they chased the idea of what it meant to be a cowboy: wrangling cattle, branding steers and spending days in a saddle.
A young Theodore Roosevelt was one of those cowboys.
Starting in Glendive, Montana, you can trace his steps across the region, you can see places that remain relatively unchanged since the late 1880s. If you stand still, close your eyes and listen, you may even be able to imagine, to understand how the very soil of the West imprinted itself on Roosevelt.
Those impressions never left him, even while he lived in the White House.
During your travels, you may even enjoy reading one or more of his books. We suggest starting with Hunting Trips of a Ranchman or Ranch Life and the Hunting Trail to understand this phase in his life.
Finding solace Roosevelt made his way to the Dakota Territory and the badlands of Montana in 1883. A year later, reeling from the death of his wife and his mother on the same day, Roosevelt returned to the region that had captured his heart. It was here he sought solace in the rivers and streams, buttes and hills, cattle and horses. Roosevelt purchased two ranches upon his arrival, the Elkhorn and Chimney Butte, 12 miles from the nearest homestead. Away from the hustle and bustle of New York City, the young Roosevelt remarked, "The charm of ranch life comes in its freedom, and the vigorous, open-air existence it forces a man to lead."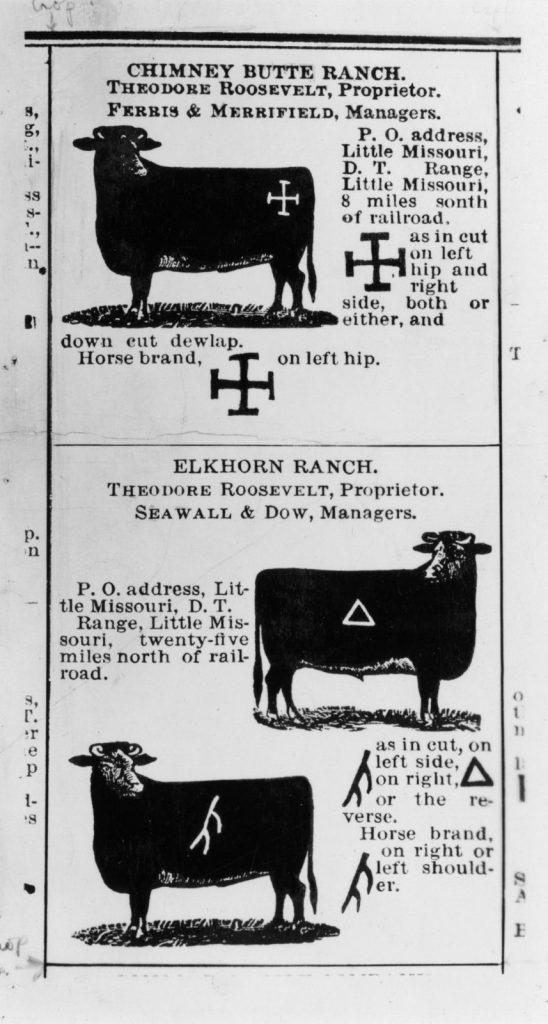 Wibaux
Many big adventures awaited Roosevelt on the frontier. Spending his days traveling the region and chasing down horses, he ran into trouble now and again. Roosevelt says his most serious encounter happened in Mingusville, Montana, a town now known as Wibaux. After many days of riding through the prairie, he arrived at Nolan's Hotel, searching out a place to stay for the night. Roosevelt recounts the story in his autobiography:
I heard one or two shots in the bar-room as I came up, and I disliked going in. But there was nowhere else to go, and it was a cold night… A shabby individual in a broad hat with a cocked gun in each hand was walking up and down the floor talking with strident profanity. He had evidently been shooting at the clock, which had two or three holes in its face.
…As soon as he saw me he hailed me as "Four eyes," in reference to my spectacles, and said, "Four eyes is going to treat." I joined in the laugh and got behind the stove and sat down, thinking to escape notice. He followed me, however, and though I tried to pass it off as a jest this merely made him more offensive, and he stood leaning over me, a gun in each hand, using very foul language…Accordingly, in response to his reiterated command that I should set up the drinks, I said, "Well, if I've got to, I've got to," and rose, looking past him.As I rose, I struck quick and hard with my right just to one side of the point of his jaw, hitting with my left as I straightened out, and then again with my right.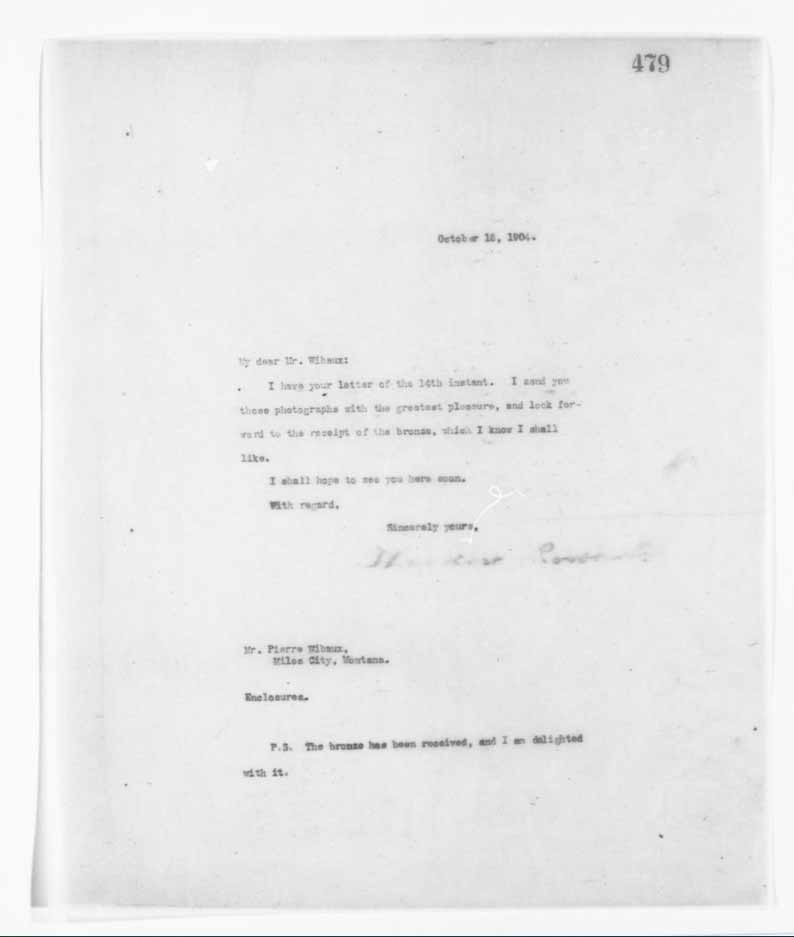 Tip: While the Nolan Hotel no longer exists in Wibaux, you can take a quick 30 minute drive from Glendive and stop in to have a pint at the town's only brewery, Beaver Creek Brewery. Or, visit the Pierre Wibaux Museum, originally the office building of Pierre Wibaux, whom the town was named after. Pierre was considered the largest cattle rancher in the world in the late 1800s, and friends with Roosevelt. The two stayed in touch throughout the early 1900s. Museum entrance is free.
Medicine Rocks
Roosevelt also traveled farther south in the state and was awed by the beauty of what eventually became Medicine Rocks State Park. Upon arrival he said, "As fantastically beautiful a place as I have ever seen." Roosevelt was impressed by the eerily-fascinating sandstone rock formations. Years of weathering have given the boulders a "Swiss-cheese" look. Walking through the spires and pillars, Roosevelt would have seen inscriptions and pictographs, dating back centuries before he arrived.Tip: Just an hour and a half southeast of Glendive between Baker and Ekalaka, the park offers hiking, biking, camping and wildlife watching.
Suggested Route: Head east out of Glendive on Interstate 94 for 28 miles, take exit 241 to Wibaux. To get to Medicine Rocks State Park, head south on Highway 7 out of Wibaux for 68 miles. Follow the signs into the park.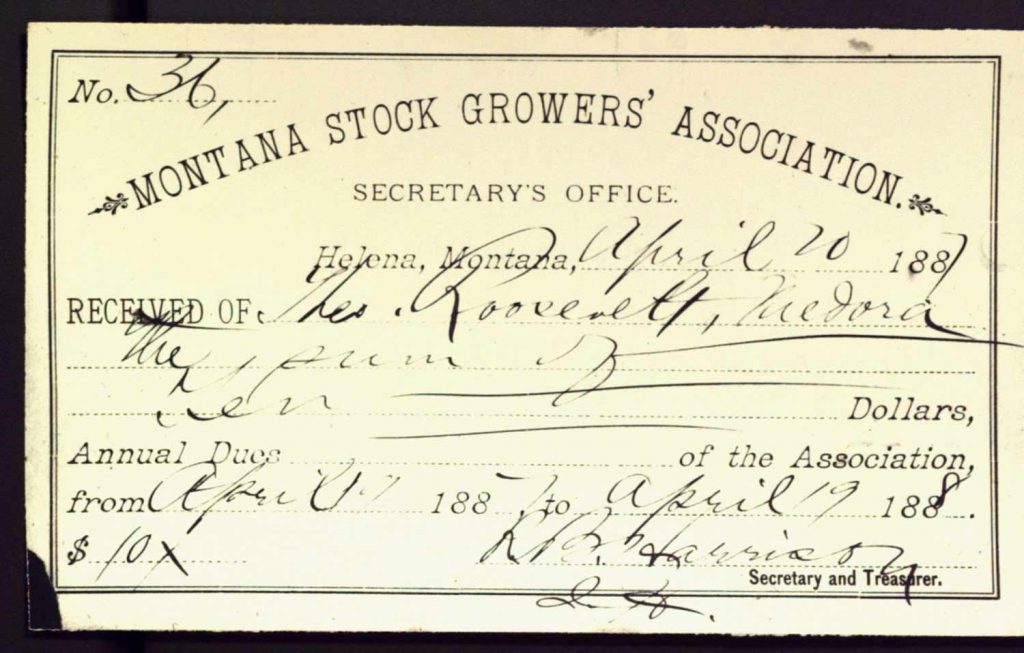 Miles City
Roosevelt also contributed in the early days of the Eastern Montana Stockgrowers Association, as a representative of the Little Missouri region. The group gathered for one of its biggest meetings in Miles City in April 1884. Ranchers were facing issues of livestock rustling. Roosevelt was in favor of an all-out war against the thieves. While the group ultimately decided not to take action that day, the discussions and thoughts eventually led to the creation of several laws to protect livestock from disease and theft.
Many of those laws are still in effect in Montana today, including employing a State Veterinarian to prevent disease and a Board of Livestock, which protects the use of brand laws and inspections to deter theft.
Tip: Just an hour's drive west of Glendive, Miles City is still a hot spot for cattle ranchers, with a cattle sale every week and the world-famous Miles City Bucking Horse Sale every May. A walking historic tour of the town highlights buildings and homes built in the late 1800s.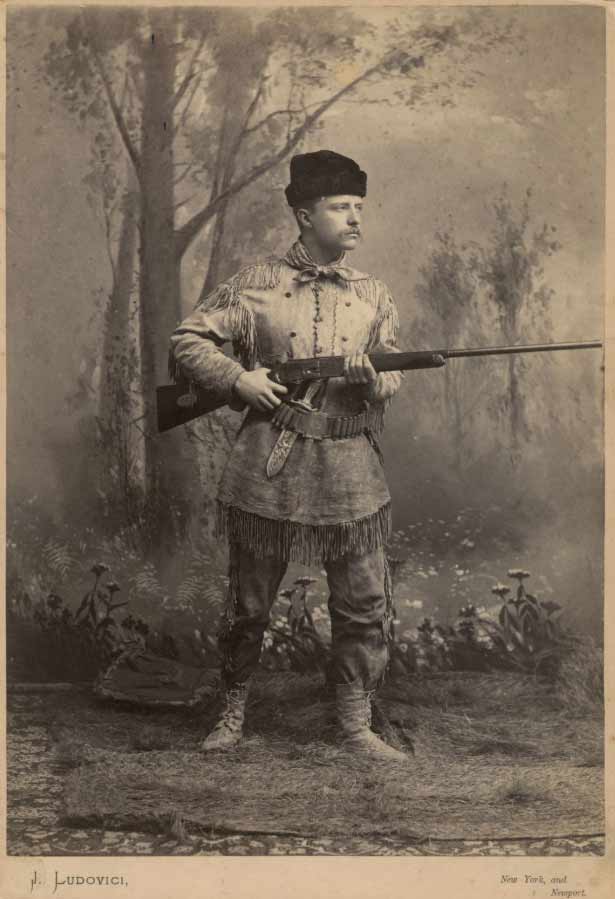 Hasten Quickly
While Roosevelt made the western frontier his home during the 1880s, he couldn't completely escape the "walk and talk" of the East Coast. That was evident one day while talking to one of his cowboys, when he told the man to "hasten quickly there, now!" The cowboy, amused by the comment, began spreading the story around to the point where cowboys started ordering a Hasten Quickly, or a stiff drink, at bars across the region.
Tip: Stop into one of those establishments in Miles City or Wibaux, and chances are you'll be sitting next to a cowboy fresh off the ranch. Try ordering a Hasten Quickly, and see if your bartender knows what you're talking about. We guarantee this is a novel conversation-starter.
Suggested Route: Take Interstate 94 west out of Glendive for 75 miles. Take exit 141 into Miles City.
Little Bighorn Battlefield National Monument
Upon becoming President in 1900, Roosevelt sought 200 paintings of Indian warriors who survived the Battle of the Little Bighorn 25 years prior. For this work, he commissioned emerging American painter Joseph Henry Sharp. A cabin was built in Crow Agency near the Little Bighorn Battlefield for him to complete the work. Many of those paintings are now on display in public institutions, including the Smithsonian museums in Washington, D.C. Others are available for viewing in a more intimate setting, closer to their source at the Big Horn County Museum in Hardin, Montana.
Tip: Plan a full day at the Little Bighorn Battlefield National Monument and walk the paths where the Northern Plains Indians fought and defeated Lt. Col. Custer and the 7th Cavalry in June 1876. Be sure to use or buy your National Park Service pass here. Next, stop at the Big Horn County Historical Museum in Hardin to view some of JH Sharp's early work – the originals are simply stunning.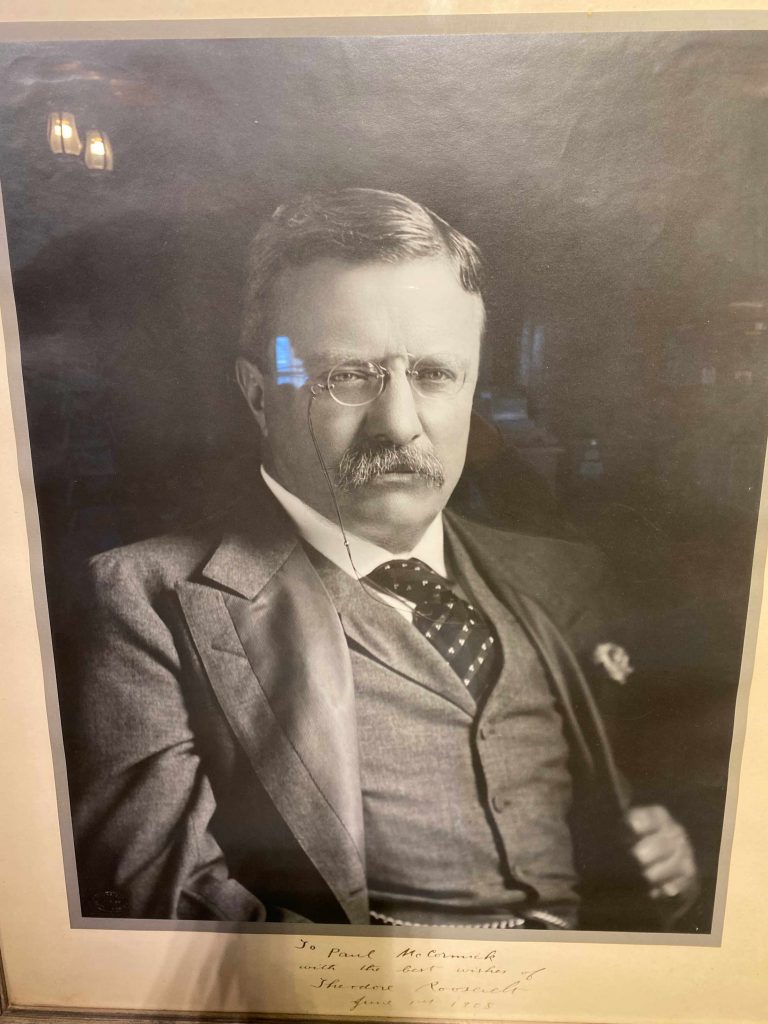 Billings
Years later, after Roosevelt sold his ranches and returned to live full-time in the East, he traveled back to Montana for hunting trips. In 1893, his friend Paul McCormick built a cabin at the confluence of the Yellowstone and Bighorn Rivers to host some of those expeditions. Today, you can visit that cabin, which was moved to Billings and became the Yellowstone County Museum.
Legacy
The time Roosevelt spent in the West deeply influenced his life story. Considered the "conservationist president," he established the United States Forest Service. Roosevelt is also credited with creating national forests, federal bird and game preserves and national parks and monuments, which protects 230 million acres of land. Much of this remains public land in Montana today. Roosevelt stands next to other great conservationists like Henry David Thoreau, Aldo Leopold and John Muir.
Tip: Visit the Yellowstone County Museum, and see a portrait of Roosevelt, signed to McCormick in 1908. Or check out the lower level, which houses the largest Ghost Dance exhibit in the world, in addition to other Western history such as wagons, saddles, firearms and more. Admission is free.
Suggested Route: Take Interstate 94 west out of Glendive for 159 miles. Take exit 49 and head south on MT-47 for 29 miles. Merge onto I-90 for 14 miles. Take the exit for US-212 East and follow the signs on your right for the Battlefield. To get to Billings, get back on I-90 west for 57 miles. Take exit 452 and turn right. Go 5 miles to the airport, and the museum will be at the end of Terminal Circle.