We're big out here in Southeast Montana, with the chance for big adventures on your next big getaway. But every trip takes a little time and planning. Want to know more about what there is to explore out here? Take a sneak peek at the trails in Montana's largest state park, explore exhibits telling the stories of Montana's past and walk the streets of a town that embodies the spirit of cowboy culture – all without leaving the comfort of your own home. Maybe your travel plans were set for 2020 to visit Southeast Montana's open spaces, small towns and big attractions but you weren't able to make it. Still, that doesn't mean you have to miss out on all this corner of the Big Sky State has to offer before you set foot on the soil in Southeast Montana.
Today, you can visit many of these sites without ever leaving your couch. As with many other places around the world, you can pop in and explore Little Bighorn Battlefield National Monument, the Montana Dinosaur Trail or the animals at ZooMontana any time you want.
So while this getaway may not actually take you to the physical location in Southeast Montana, sit back and enjoy your visit virtually while you daydream about your next trip out here.
Outdoor Recreation
Big space is in our nature in Southeast Montana. From rolling prairies to flowing rivers, scenic badlands and towering canyons, there's tens of thousands of acres of open space just waiting to be explored.
Southeast Montana is home to 8 state parks, including Makoshika State Park, Montana's largest at more than 11,000 acres. Find the beauty in these badlands as park staff lead you on hikes across the many trails, show off some of the fossils found in the park or as you take in the scenery from above.
Farther south, learn about Medicine Rocks State Park, recently designated an International Dark Sky Sanctuary. Using Facebook, participate in the dark sky programs through the Carter County Museum. During the day, take time to explore the geology of the sandstone rock formations, which have been formed over thousands of years of erosion. Find more tours of Southeast Montana's state parks.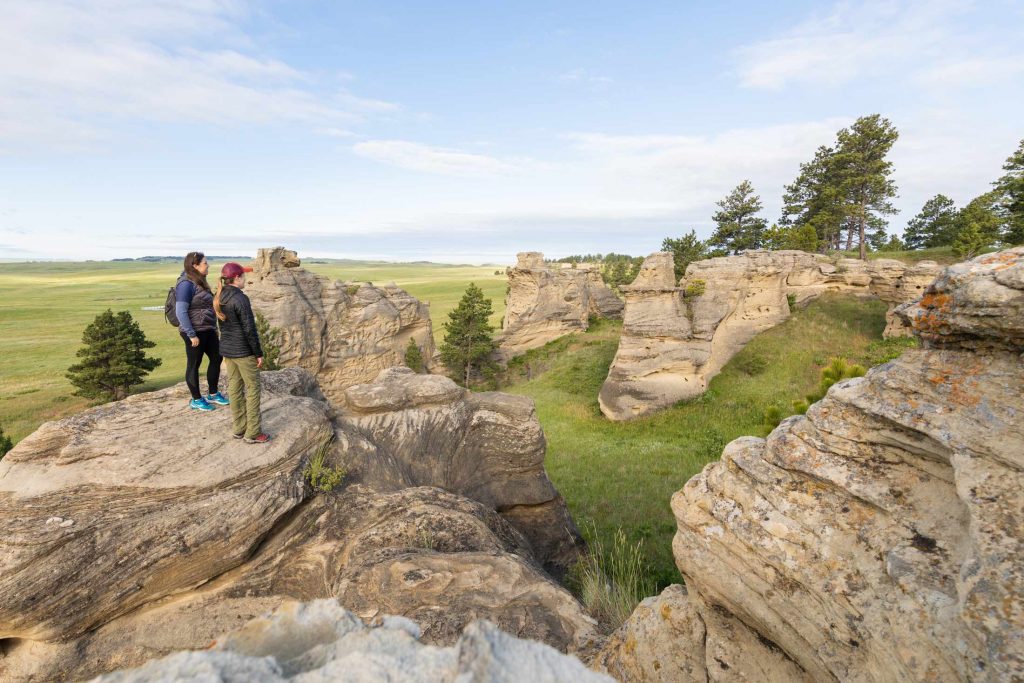 Not only is ZooMontana the state's only zoo, it's also an arboretum and botanical garden. Here you'll find sheep and goats, bison and bears, owls and otters—all animals that live at the 45th parallel. And that's just outside. Inside the educational center you'll find reptiles, birds and even a sloth. Follow along with "Jeff the Nature Guy" as he explores a wide range of topics from poaching to a behind-the-scenes look at some of the baby animals. And tune into ZooMontana's Facebook page for ZooClues, where you can learn where the koi fish go in the summer and how the peacock got out.
Explore the History of Southeast Montana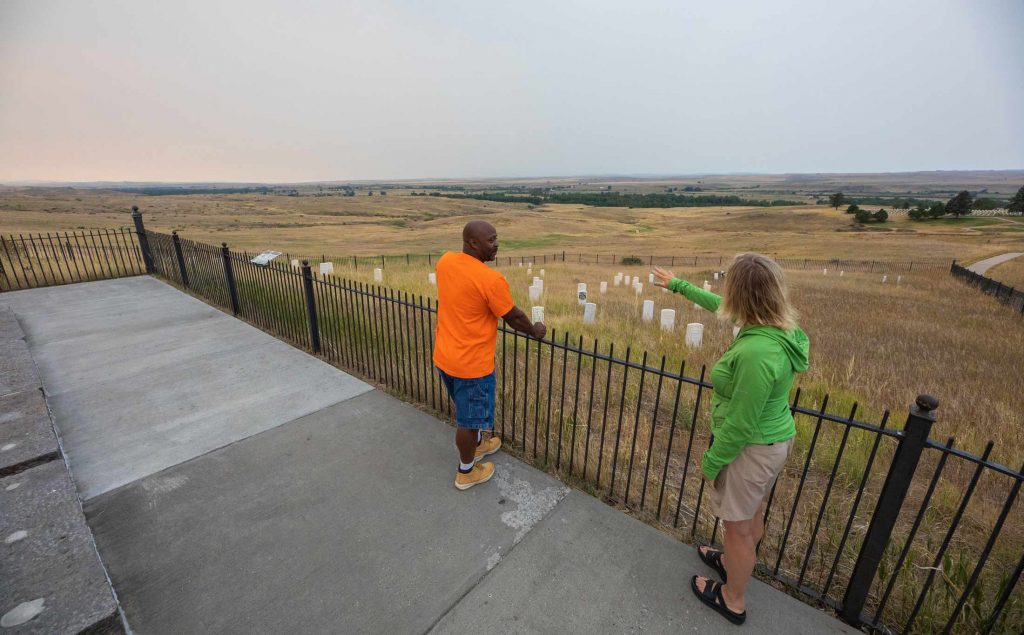 We invite you to come explore and write your own stories while learning about those of the past. Dinosaurs, American Indians, Lewis and Clark and more have made a lasting mark on the land out here.
One of the most studied battles in United States history, the Battle of Little Bighorn remembers the clash between the Plains Indians and the 7th Regiment of the U.S. Calvary. At the Little Bighorn Battlefield National Monument, National Park Service Rangers Talks offer pieces of history to help guests understand the significance of the battle and the land. Today, those talks are hosted on Facebook. Turn notifications for the page on, and you'll be able to follow live videos and ask questions of the rangers, just like you would if you were at the park.
Yellowstone Art Museum in Billings is inviting you to explore its exhibits showcasing both the past and present of Montana. The museum exhibits featuring tribal artists, a space dedicated solely to art done by students in the region and more. Learn about both permanent and rotating exhibits of Willem Volkersz, Jon Lodge, Will James and more while getting a behind-the-scenes tour of the YAM. Or, get the kids involved and take advantage of the museum's art education program for children. YAM develops its own art curriculum, aligned with state and national art education standards and features lessons for both permanent and temporary collections.
Walk with Dinosaurs
Southeast Montana was home to dinosaurs millions of years ago. While it's now made up of stunning badlands and rolling prairies, the region was once a tropical location with an inland sea. It was here dinosaurs roamed and made their home throughout several different eras.
Learn about the three spots on the Montana Dinosaur Trail in Southeast Montana: Frontier Gateway Museum, Makoshika State Park and Carter County Museum. See how each location highlights that region's paleo-history and plan your future trip along the trail. Make sure to pick up a trail passport and visit each of the 14 locations throughout the state.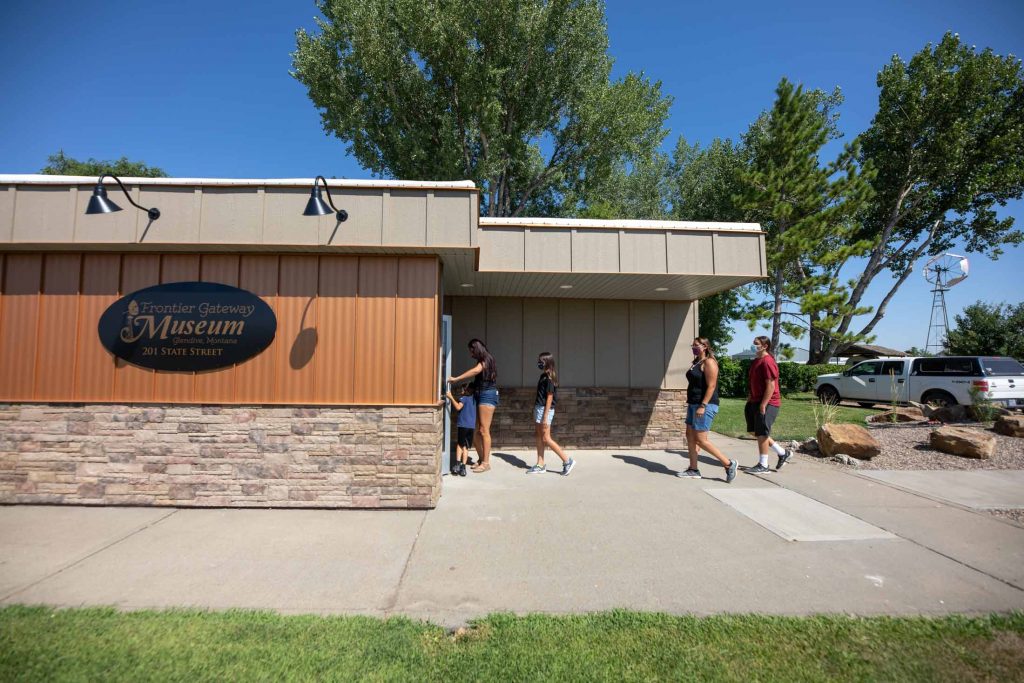 Just down the (virtual) road from Makoshika State Park and the Frontier Gateway Museum, the Glendive Dinosaur & Fossil Museum is helps you walk the halls and take in all the exhibits in their building with 10 virtual video tours. With more than 20 full-size dinosaurs, dozens of fossils and a creationist approach to explaining the past, this museum will give you a different way to think about how Southeast Montana came to be.
For even more Southeast Montana adventures, visit our YouTube page and explore the videos and playlists there, as well as our Facebook page, where you'll find news, tours and videos from across Southeast Montana.
Traveler Alert: Please remember to check ahead of time as services may not always be open or may change, stay home if you're sick and follow local guidelines and protocols. For more information, visit SafeOutHereMT.com.